Settings
To edit a Google+ badge:
To open Settings, please select the first icon from the element's menu.:
Google+ user – you can paste here the URL of the Google+ profile you want to display.
Features – choose between Badge or Icon to set the layout of the badge
If selected Badge, the features are:
Layout – choose between Portrait or Landscape to set the orientation of your badge.
Width – this feature defines the pixel width of your badge to render - for portrait the minimum width of 180px and the maximum is 450px are valid. For landscape layout – 273 – 450px. For lower or higher values than these, the width will be automatically resized.
Color theme – choose between Light and Dark color theme for your badge. You can use Dark when placing the element on a page with a dark background and vise versa.
Cover photo – you can enable or disable the cover photo that displays in the badge.
Tagline – you can enable or disable the user's tag line that displays in the badge.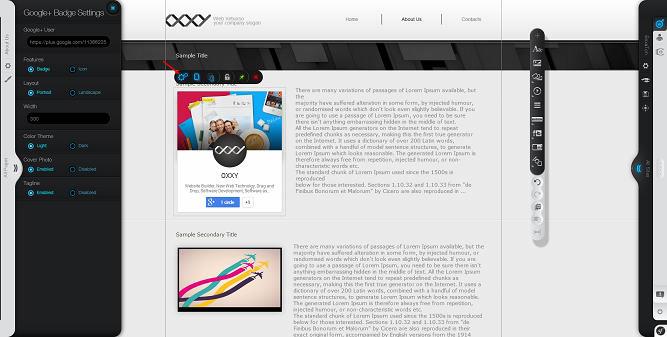 If selected Icon, the features are:
Icon size - customize your Google+ icon to either small, medium or large box size.
Custom name – write the name of your Google+ profile next to the icon.