---
The idea about Oxxy came from our CEO Dimitar Dimitrov while working on his PhD thesis on multiwebsite systems. He found a niche in the site-building software that even though cluttered with numerous competitors was still unexploited of its full potential. He partnered up with experienced investors and entrepreneurs in the SMB market and started to plan carefully and lay a stable ground for the company both financially and strategically. A team was selected among thousands of candidates and after months of hard work and dedication, the technology behind Oxxy was built. The philosophy of our founders, from the very beginning, stayed the same - to create a cutting edge and market leading website builder tool for business digitalisation, promotion and publishing with professional web results. They are on a conquest to help millions of users with no development skills to create beautiful and compelling websites.
In a cluttered online environment with low level of differentiation between the web building software offers, we decided to break the status quo by presenting a sophisticated solution in a simple to understand and flexible to modify way - business centric. And we are here to stay, providing small and medium size businesses with the unique possibility to bring all their online properties under one single roof - our platform! Unlike other competitors, we talk the customers' language, telling him a story in which he is the main character. We make multifunctionality simple yet completely flexible.
We develop and maintain one-of-a-kind multifunctional website building platform that will enable small and medium size businesses from around the globe to excel in their online marketing activities. We bring simplicity, clarity and flexibility to a sophisticated technological industry setting up new standards for online business communications.
We aim to bring our platform to become as efficient and manageable that even non experienced users would have the chance to develop their vision and express their ideas online.
---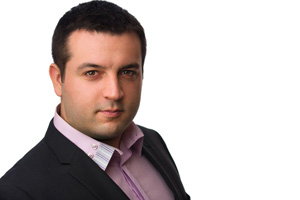 Dimitar Dimitrov
Founder/CEO/CTO
Dimitar is the founder of Oxxy with more than 10 years of experience in software development. Hе has a Master's Degree in Software Systems and a PhD degree in Programming Systems. His technical experience, entrepreneurial spirit and enthusiasm to undertake new ventures, were essential to transform Oxxy starting from an idea to a serious business challenge. The Startup company activity has been quickly developed to become subsequently part of an international holding group with offices in different European countries attracting foreign investments.
With his innovative thinking, multitasking approach and infinite energy for work, Dimitar always succeeds to transmit his dynamism to the whole team and concentrate the activities over the most important priorities. At the same time, his specific management style, a mix between friendly communication and giving the freedom to everybody to be creative and proactive, are the key to move corporate activities forward and create a working environment in which each team member can show its capabilities.
One of the main Dimitar's priorities is to keep, as it has been to date, all the activities related to the platform technical development in Bulgaria by hiring and investing in new specialists, because he believes in the capabilities and the motivation of the young people in the country.
Krasimir Bosilkov
Head of Backend Development
Krasimir has more than 10 years of experience in software technologies and web applications development. His role in the company is full stack developer. Translated in intelligible language, this means that to succeed to this position, you need to own a special mix of knowledge in different technical fields, as well as capabilities as multitasking, problem solving, analytical thinking and the most important, a whole product vision.
Krasimir has the difficult task to assure the smooth operation of Oxxy products on all fronts, both the user interaction with the platform and the hardware and software infrastructure correct functioning.
In terms of communication skills, Krasimir goes beyond the "IT guy" stereotype. Instead of аvoiding communication and preferring to work isolated in full concentration, he is always ready to help with an advice and create a positive working atmosphere using his sense of humour.
Adrian Damyanov
Head of Frontend Development
Adrian is the youngest team member at Oxxy. He started working in the company without any significant experience but charged with a great enthusiasm and desire to gather professional experience in software development. At the position of Front-end Developer, he is responsible for the successful user experience in their interaction with the platform, as well as for the technical development and implementation of new functionalities. Dedicated fully to the programming, acquiring new skills and competencies, in only two years, he managed to achieve Team Lead level and is ready to transmit all he learned to the new colleagues who join Oxxy team.
Highly organized in his work, with a sense of responsibility and open-minded in the communication with the other colleagues, Adrian assure a solid contribution to the compony projects development and their successful realization.
Nadezhda Shineva
Chief Marketing Officer
Nadezhda has more than 10 years of international experience in the marketing and communications field, gathered through various working assignments in different countries as Bulgaria, France and Italy. She worked for both high-tech startups and multinational companies in various market niches as telecommunications, petrol sector, diplomatic corps and others. Thanks to the large and high budget projects and advertising campaigns she managed, Nadezhda succeeds to combine standard marketing techniques with innovative approaches in order to achieve the final results and strategical objectives.
One of the main priority in her work at Oxxy is to assure a successful customer experience and interaction with the company brand. Her desire to embrace new challenges, together with her out-the-box thinking are the key to realize the ideas into solutions in order to promote Oxxy brand and create happy customers.
---
Oxxy is a place where great ideas are born and developed on a daily basis. We are proud of our company culture and identity which helps us stay motivated and handle challenging tasks. Our team is valued for its great expertise, individual responsibility and motivation for excellence. We meet up daily to discuss our goals, separate our tasks into smaller chunks and we even compete with each other on performing them which we discovered is giving great results.
Our company is successful because we are focused, we are powerful in our expertise, we follow clear plan and allocate tasks effectively.
Everyone here enjoys enough opportunities for professional development and enrichment of his/her knowledge and skills. The people who join our company find immediately their valuable place for contribution.