---
Idén till Oxxy kom från vår VD Dimitar Dimitrov när han jobbade på sin doktorsexamen i system för flera webbplatser. Han hittade en nisch inom program för webbplatsbyggande, och trots att den var fylld av konkurrenter var den fortfarande inte utvecklad till sin fulla potential. Han samarbetade med erfarna investerare och företagare på SMB-marknaden och började noggrant att planera och lägga en stabil grund för företaget, både ekonomiskt och strategiskt. Ett team sattes samman bland tusentals kandidater och efter månader av hårt arbete och engagemang, byggdes tekniken bakom Oxxy. Våra grundares filosofi har redan från början varit densamma – att skapa ett banbrytande och marknadsledande hemsideverktyg för företagsdigitalisering, marknadsföring och publicering med professionellt resultat. Deras uppdrag är att hjälpa miljontals användare som saknar kunskapen att skapa vackra och tilltalande hemsidor.
I en rörig online-miljö med lite skillnad mellan de program som finns tillgängliga för webbygge bestämde vi oss för att bryta status quo och presentera en sofistikerad lösning som fungerar på ett lättförståeligt och lättändrat sätt - affärscentrerat. Vi är här för att stanna och ge små och medelstora företag den unika möjligheten att få ut hela sin onlinenärvaro under ett och samma tak – vår plattform! Till skillnad från andra konkurrenter talar vi kundernas språk då vi berättar en historia i vilken denne står i centrum. Vi gör multifunktionalitet enkel men ändå helt flexibel.
Vi utvecklar och underhåller ett unikt, multifunktionellt hemsideprogram för att ge små och medelstora företag från hela världen möjlighet att bli framgångsrika i sin onlinemarknadsföring. Vi tar med oss enkelhet, tydlighet och flexibilitet till en sofistikerad teknologisk bransch och skapar nya standarder inom affärskommunikation online.
Vi siktar på att vår plattform ska vara så effektiv och hanterbar som möjligt så att till och med de mest oerfarna användarna får chansen att utveckla sin vision och uttrycka sina idéer online.
---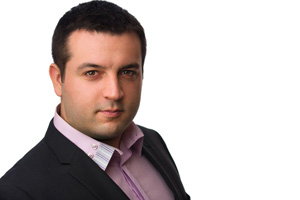 Dimitar Dimitrov
Medgrundare och CEO
Dimitar is the founder of Oxxy with more than 10 years of experience in software development. Hе has a Master's Degree in Software Systems and a PhD degree in Programming Systems. His technical experience, entrepreneurial spirit and enthusiasm to undertake new ventures, were essential to transform Oxxy starting from an idea to a serious business challenge. The Startup company activity has been quickly developed to become subsequently part of an international holding group with offices in different European countries attracting foreign investments.
With his innovative thinking, multitasking approach and infinite energy for work, Dimitar always succeeds to transmit his dynamism to the whole team and concentrate the activities over the most important priorities. At the same time, his specific management style, a mix between friendly communication and giving the freedom to everybody to be creative and proactive, are the key to move corporate activities forward and create a working environment in which each team member can show its capabilities.
One of the main Dimitar's priorities is to keep, as it has been to date, all the activities related to the platform technical development in Bulgaria by hiring and investing in new specialists, because he believes in the capabilities and the motivation of the young people in the country.
Krasimir Bosilkov
Full Stack Developer
Krasimir has more than 10 years of experience in software technologies and web applications development. His role in the company is full stack developer. Translated in intelligible language, this means that to succeed to this position, you need to own a special mix of knowledge in different technical fields, as well as capabilities as multitasking, problem solving, analytical thinking and the most important, a whole product vision.
Krasimir has the difficult task to assure the smooth operation of Oxxy products on all fronts, both the user interaction with the platform and the hardware and software infrastructure correct functioning.
In terms of communication skills, Krasimir goes beyond the "IT guy" stereotype. Instead of аvoiding communication and preferring to work isolated in full concentration, he is always ready to help with an advice and create a positive working atmosphere using his sense of humour.
Adrian Damyanov
Frontend Developer
Adrian is the youngest team member at Oxxy. He started working in the company without any significant experience but charged with a great enthusiasm and desire to gather professional experience in software development. At the position of Front-end Developer, he is responsible for the successful user experience in their interaction with the platform, as well as for the technical development and implementation of new functionalities. Dedicated fully to the programming, acquiring new skills and competencies, in only two years, he managed to achieve Team Lead level and is ready to transmit all he learned to the new colleagues who join Oxxy team.
Highly organized in his work, with a sense of responsibility and open-minded in the communication with the other colleagues, Adrian assure a solid contribution to the compony projects development and their successful realization.
Nadezhda Shineva
Chief Marketing Officer
Nadezhda has more than 10 years of international experience in the marketing and communications field, gathered through various working assignments in different countries as Bulgaria, France and Italy. She worked for both high-tech startups and multinational companies in various market niches as telecommunications, petrol sector, diplomatic corps and others. Thanks to the large and high budget projects and advertising campaigns she managed, Nadezhda succeeds to combine standard marketing techniques with innovative approaches in order to achieve the final results and strategical objectives.
One of the main priority in her work at Oxxy is to assure a successful customer experience and interaction with the company brand. Her desire to embrace new challenges, together with her out-the-box thinking are the key to realize the ideas into solutions in order to promote Oxxy brand and create happy customers.
---
Oxxy är ett ställe där storslagna idéer föds och utvecklas varje dag. Vi är stolta över en företagskultur och identitet som hjälper oss att vara motiverade och kunna hantera utmanande uppgifter. Vårt team är uppskattat för sin stora expertis, individuella ansvar och perfektionistiska ambition. Vi träffas dagligen för att diskutera våra mål, dela upp våra uppgifter i mindre delar och vi tävlar även med varandra om att utföra dem, vilket vi har märkt leder till bra resultat.
Vårt företag är framgångsrikt eftersom vi är fokuserade, vi är kraftfulla i vårt kunnande, vi följer en tydlig plan och fördelar uppgifter på ett effektivt sätt.
Alla här har möjlighet till professionell utveckling och att utöka sina kunskaper och färdigheter. De som blir en del av vårt företag känner direkt att de bidrar på ett värdefullt sätt.