---
Ideen til Oxxy kom fra vår administrerende direktør, Dimitar Dimitrov, mens han jobbet med sin doktoravhandling om "Multiwebsite Systems". Han fant en nisje innenfor programvare for nettstedsbygging. Det finnes mange konkurrenter, men i det litt rotete markedet så Dimitar at det fantes masse uutnyttet potensiale. Han begynte å samarbeide med erfarne investorer og gründere innenfor SMB-markedet, og startet med nøye planlegging samtidig som han la et stabilt grunnlag for selskapet både økonomisk og strategisk. Et team ble valgt ut blant tusenvis av kandidater, og etter flere måneder med hardt arbeid og engasjement, ble teknologien bak Oxxy bygget. Våre grunnleggeres filosofi har helt siden begynnelsen vært den samme: Å skape et nyskapende og markedsledende verktøy for å bygge nettsteder. Det skal kunne brukes for å digitalisere bedriften og for å håndtere bedriftens kampanjer og publisering med et profesjonelt resultat på nett. Deres misjon er å hjelpe millioner av brukere uten utviklingsferdigheter med å skape vakre og spennende nettsteder.
I et rotete nettmiljø med lavt nivå av differensiering mellom ulik programvare for å bygge nettsteder, bestemte vi oss for å bryte denne trenden ved å presentere en sofistikert løsning på en enkel, forståelig og fleksibel måte – forretningssentrisk. Vi er definitivt kommet for å bli. Vi gir små og mellomstore bedrifter en unik mulighet til å samle alle sine nettvirkemidler under ett og samme tak – vår plattform! I motsetning til andre konkurrenter, snakker vi kundens språk og forteller en historie hvor kunden faktisk er hovedpersonen. Vi gjør multifunksjonalitet enkelt og samtidig helt fleksibelt.
Vi utvikler og vedlikeholder en helt unik multifunksjonell plattform for å bygge opp et nettsted. Denne plattformen gjør det mulig for små og mellomstore bedrifter i hele verden å utmerke seg innenfor markedsføringsaktiviteter på nett. Ved å sette en ny standard for forretningskommunikasjon på nett bringer vi enkelhet, klarhet og fleksibilitet til en sofistikert teknologiindustri. p>
Vi tar sikte på at vår plattform skal bli så effektiv og håndterlig at selv uerfarne brukere har muligheten til å utvikle sin visjon og til å uttrykke idéene sine på nett. p>
---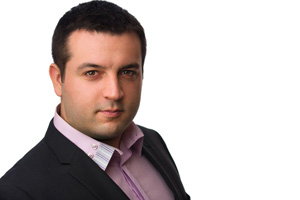 Dimitar Dimitrov
Medgrunnlegger og administrerende direktør
Dimitar is the founder of Oxxy with more than 10 years of experience in software development. Hе has a Master's Degree in Software Systems and a PhD degree in Programming Systems. His technical experience, entrepreneurial spirit and enthusiasm to undertake new ventures, were essential to transform Oxxy starting from an idea to a serious business challenge. The Startup company activity has been quickly developed to become subsequently part of an international holding group with offices in different European countries attracting foreign investments.
With his innovative thinking, multitasking approach and infinite energy for work, Dimitar always succeeds to transmit his dynamism to the whole team and concentrate the activities over the most important priorities. At the same time, his specific management style, a mix between friendly communication and giving the freedom to everybody to be creative and proactive, are the key to move corporate activities forward and create a working environment in which each team member can show its capabilities.
One of the main Dimitar's priorities is to keep, as it has been to date, all the activities related to the platform technical development in Bulgaria by hiring and investing in new specialists, because he believes in the capabilities and the motivation of the young people in the country.
Krasimir Bosilkov
Full Stack Developer
Krasimir has more than 10 years of experience in software technologies and web applications development. His role in the company is full stack developer. Translated in intelligible language, this means that to succeed to this position, you need to own a special mix of knowledge in different technical fields, as well as capabilities as multitasking, problem solving, analytical thinking and the most important, a whole product vision.
Krasimir has the difficult task to assure the smooth operation of Oxxy products on all fronts, both the user interaction with the platform and the hardware and software infrastructure correct functioning.
In terms of communication skills, Krasimir goes beyond the "IT guy" stereotype. Instead of аvoiding communication and preferring to work isolated in full concentration, he is always ready to help with an advice and create a positive working atmosphere using his sense of humour.
Adrian Damyanov
Frontend Developer
Adrian is the youngest team member at Oxxy. He started working in the company without any significant experience but charged with a great enthusiasm and desire to gather professional experience in software development. At the position of Front-end Developer, he is responsible for the successful user experience in their interaction with the platform, as well as for the technical development and implementation of new functionalities. Dedicated fully to the programming, acquiring new skills and competencies, in only two years, he managed to achieve Team Lead level and is ready to transmit all he learned to the new colleagues who join Oxxy team.
Highly organized in his work, with a sense of responsibility and open-minded in the communication with the other colleagues, Adrian assure a solid contribution to the compony projects development and their successful realization.
Nadezhda Shineva
Chief Marketing Officer
Nadezhda has more than 10 years of international experience in the marketing and communications field, gathered through various working assignments in different countries as Bulgaria, France and Italy. She worked for both high-tech startups and multinational companies in various market niches as telecommunications, petrol sector, diplomatic corps and others. Thanks to the large and high budget projects and advertising campaigns she managed, Nadezhda succeeds to combine standard marketing techniques with innovative approaches in order to achieve the final results and strategical objectives.
One of the main priority in her work at Oxxy is to assure a successful customer experience and interaction with the company brand. Her desire to embrace new challenges, together with her out-the-box thinking are the key to realize the ideas into solutions in order to promote Oxxy brand and create happy customers.
---
Oxxy er et sted hvor store idéer bli født og utviklet på daglig basis. Vi er stolte av forretningskulturen vår og identiteten som hjelper oss med å bevare motivasjonen, og til å håndtere utfordrende oppgaver. Teamet vårt er høyt verdsatt pga. sin høye kompetanse, individuelle ansvar og sin motivasjon for å oppnå fortreffelige resultater. Vi møtes daglig for å diskutere våre mål, dele inn oppgavene våre i mindre biter, og vi konkurrerer til og med oss i mellom om å utføre disse oppgavene. Dette er noe vi har oppdaget at gir meget gode resultater.
Selskapet vårt gjør det bra fordi vi er fokuserte, har mye kompetanse, vi følger klare retningslinjer og vi allokerer oppgaver på en effektiv måte.
Hos oss har vi alle sammen nok av muligheter for faglig utvikling og for påfyll av kunnskaper og ferdigheter. Menneskene som begynner å jobbe i bedriften vår finner straks ut hvordan de kan bidra på en verdifull måte.